Thinking about selling a practice?

The sale of your dental practice requires specific knowledge that only twenty-seven years in the dental profession can bring. I meet with and pre-qualify every candidate, arrange and complete all bank financing. I will work closely with you and the buyer during the entire negotiation process. After the closing, I remain available to help with any issue or concerns.


My realistic approach to evaluating and selling a dental practice will help provide the expert professional advice necessary to guide you and your advisors from the evaluation, to the offer, to the purchase and sale agreement, and through the closing.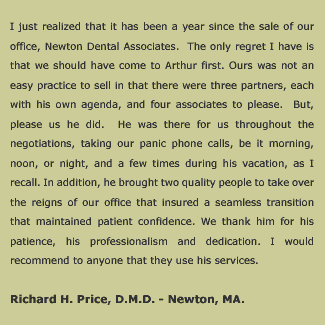 I am committed to the success of both the buyer and seller in every transaction. We have heard it before, but this must be a win-win opportunity for both the buyer and seller.
I will provide you with the information that is absolutely necessary to complete a successful sale and transition of you dental practice. I sometimes feel that I am also representing the patients and staff of the practice. With their interests in mind, I am able to guide everyone toward a smooth transition.
Please don't hesitate to call anytime to arrange a consultation that will be without any obligation or charge.